Hosting Polyplane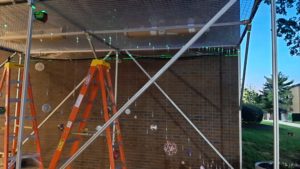 If you have a 12′ wide by 20′ long space with ten-foot vertical clearance (13 feet if outdoors), you may be able to host Polyplane. Indoor venues are preferred, but the exhibit can be installed outdoors as well. If your venue is approved for a showing, the only cost to you for installations between two and six weeks long is inbound shipping charges (which will vary by distance from the previous venue or storage location of the exhibit). Venues desiring a shorter display time will be responsible for round-trip shipping, whereas longer display times will entail a modest rental fee.
The exhibition comes with detailed installation instructions, which require no special expertise or experience to perform. At least three people are recommended for a smooth and safe installation. All tools are provided with the exhibit, and ladders are available to be included with the shipment. Video chat support during installation and packing is available at no cost. If you prefer instead to contract professional installers at your expense, assistance in finding a qualified crew is available.
To apply to host Polyplane, please send an email to polyplane@studioinfinity.org with the name and location of your venue, why you are interested in hosting the exhibition, your desired length of installation, and your range of possible installation dates. A representative of Studio Infinity will get back to you promptly.
Upcoming installations
Joint Mathematics Meetings 2024, San Francisco, CA (Moscone Center) — 2024 Jan 3-6
Prior Installations
Rutgers University (outside Hill Center) — 2023 April 19 – May 3
The College of New Jersey (Decker Hall) — 2023 July 17 – 22
MathFest 2023, Tampa, FL (Exhibition Hall) — 2023 Aug 2-4